Just the other day I was futzing with the Nokia N95 web browser and discovered that it had several features that were similar to the iPhone. For example the N95 has a mini-map: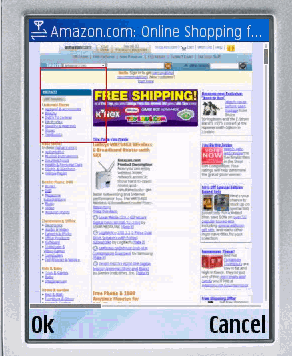 and the time-travel feature: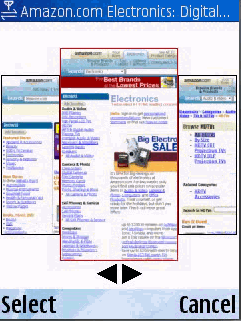 I was intrigued. I checked out the relative Apple and Nokia corporate web sites and discovered that the touted features were in fact identical. So I set out to discover the source of the similarity.
Now it turns out that both Nokia and Apple in 2005 had agreed to partner on building a web browser based on Safari:
Nokia has announced that it using open source software in developing a new mobile Web browser for its Series 60 SmartPhone — and that this has been developed in cooperation with Apple.

The Series 60 browser will use the same open source components, WebCore and JavaScriptCore, that Apple uses in Safari that is based on KHTML and KJS from KDE's "Konqueror" open source project.

Nokia said that it intends to continue its collaboration with Apple — and will actively participate in the open source community to further develop and enhance these components, contributing Nokia's "expertise in mobility," the company said.
And in fact Nokia's open source project page describes exactly how the Safari web browser is the basis for their browser.
Mystery at last revealed, the reason the browsers are so similar is because they are the same browser.
I will observe that this further confirms my near universal irritation with the quality of technology journalism. The fact that the Apple hype machine implied the iPhone was unique in it's use of Safari did not mean a few moments of fact checking would not have revealed that Apple was using someone's else technology.