When I was in college, I discovered the Dunkin Donut Ham, Egg and Cheese Croissant Sandwich. As a student with a marginal budget, this was something tasty and awesome.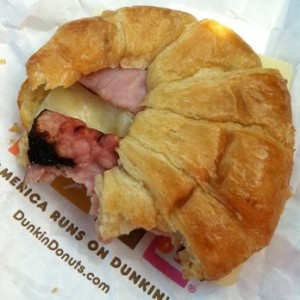 My wife took one look at this artificial monstrosity of fat and grease and synthetic product and said: YUCH.
But this thing was a promise to me. As I chewed and swallowed every bite, my heart told me, as it got clogged, that someday my life would be better and that this thing would also get better.
Well it did.
Here we have the Dunkin Donut Egg and Cheese and Bacon sandwich re-imagined.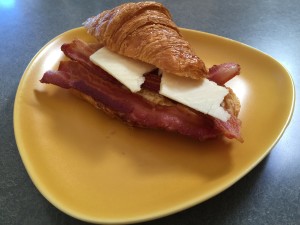 Notice the Alexander's Patisserie Croissant, the artisanal cheddar, the locally sourced organically produced nitrate free bacon and free range eggs.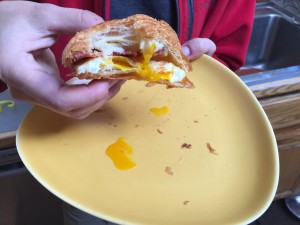 Look at the color of that egg yolk, no sickly pale yellow typically found in commercial eggs…